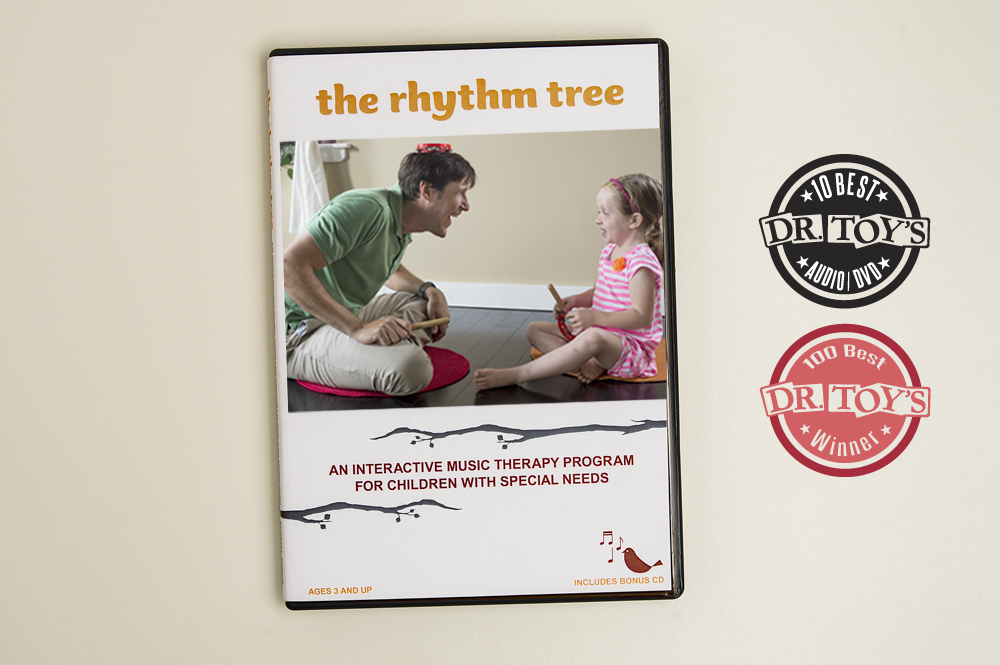 The Rhythm Tree DVD, CD and PDF file of Songbook
0002
Product Details
GET THE RHYTHM TREE FOR YOUR HOME, CLASS OR OFFICE
MSRP $34.95 Sale Price $29.95 plus shipping
90-Day No Hassle, Free Return Policy
We are so confident that you will love this DVD, CD & Songbook (PDF) that we will refund your money and even pay for your return shipping costs if you are not completely satisfied.



Perfect for Parents, Educators and Therapists
Develop critical skills in a fun and playful way (no musical abilities required).
This DVD/CD combo is ideal if you already have some tambourines, rhythm sticks and maracas.
THE RHYTHM TREE DVD, CD and SONGBOOK: PLAY WITH PURPOSE
• Bring therapeutic music into your home, classroom or office
• Can be adapted for different developmental levels/learning styles
• Amazing self-esteem builder (gives children a way to express themselves)
• Creates fun family/bonding time
• Addresses motor, social, speech/communication, and academic skills
One-hour DVD with 9 Learn-along Songs with separate chapters for grown-ups:
▪ How to Use Prompting Strategies so Your Child Can Be More Successful & Independent
▪ How to Adapt Instruments so that Any Child (Regardless of Physical Ability) Can Play Them Successfully
▪ How to Make Homemade Instruments and Use Them to Address Developmental Goals
CD with all 9 songs (great for the car or classroom)
30-page Songbook with music and lyrics for all songs, plus strategies and techniques for addressing developmental goals - Take a Look Inside
SONGS AND DEVELOPMENTAL GOALS
"It's Music Time" - Greetings, Speech & Communication
"We're Gonna Move" - Body Awareness, Gross Motor Skills, Impulse Control
"Tap My Sticks" - Imitation, Following Directions, Fine Motor Skills, Gross Motor Skills
"Copy My Beat" - Eye Contact, Sequencing, Short-term Memory, Counting
"The Rhythm Tree" - Articulation, Gross Motor Skills, Range of Motion
"Follow Me" - Bonding, Fine Motor Skills, Eye Contact
"The Requesting Song" - Requesting, Stringing Words Together, Vocal Inflection, Choice-making
"Where is Thumbkin?" - Finger Isolation, Identifying Emotions, Pincer & Tripod Grasp Development
"The Good-bye Song" - Social Skills, Eye Contact, Saying and/or Waving Good-bye
---
WHAT PARENTS, EDUCATORS AND THERAPISTS SAY ABOUT THE RHYTHM TREE
The Rhythm Tree DVD offers therapy disguised as fun!

I thought music therapy would be a good fit for my 3-year-old son with high-functioning autism since he loves music. With some research, I stumbled upon The Rhythm Tree website and watched some of Ryan's videos. I was intrigued, but worried that my son may not benefit since, not only is every kid different, but I am also not Ryan Judd with all of his experience and musical talent. I decided since there was a 30 day money back guarantee, I had nothing to lose. Well, the DVD has exceeded my expectations. The songs are engaging and catchy. I often find myself singing parts of them throughout the day, which is great since Ryan encourages parents, teachers, and therapists to change the lyrics to fit different situations. The best part about these songs and the DVD is that they have a lot of therapy embedded in them. This program offers a convenient and fun way to engage my high-functioning autistic son as well as my 2-year-old son. My husband and I can truly say that it's fun for our whole family in addition to being educational and helping our sons meet developmental goals.

- Alysa F., parent of a child with Autism





I'm a parent of a 7-year-old son with Williams Syndrome and music is the key to opening up his world! One of the wonderful things about this program is you can create your music time with the entire family. All my kids join in and it makes it such a great time to laugh, sing and dance together while my son is practicing much-needed skills. This music program is easy to implement in our busy schedules and not having to leave your home for a therapy session is priceless. - Tammy K., parent of a child with Williams syndrome




Adding music to my therapy sessions has been so beneficial for my students. I love the variety of ways that there are to address developmental goals through music. I've found that if I add music when a child is having difficulty focusing during a session, it has a positive impact on the child's attention span.

Every therapist should add this DVD package to their therapy supplies.

- Anne Zachry, PhD, OTR/L
The Rhythm Tree has become my new favorite place for song ideas for my speech/language clients. Ryan's DVD/CD program is practical and fun! - Ana Paula G. Mumy, MS, CCC-SLP





The Rhythm Tree has been a fantastic addition to our early intervention program each week. As a teaching team we now feel confident & enthusiastic in our ability to present a quality music component to our program. It complements each child's individual educational plan. I am keen to recommend The Rhythm Tree to all teachers and families of young children. It's a fun way to explore and enhance social, language, motor and sensory skills together. - Darren Parker, Special Education Teacher






I thought the Rhythm Tree Kit was terrific! I would recommend it to any helping professional working with children with developmental delays or parent of a child with special needs. I think the investment in the kit is completely worth it, especially considering the fact that one-on-one sessions with a private music therapist can cost upwards of $70 per hour. The Rhythm Tree Kit is a comprehensive, accessible, practical, and effective way to help kids work on therapeutic goals. - Stefanie Brown, MS, School Psychologist






It is a very comprehensive package that gave me everything I needed to use the songs effectively. While the DVD gave me a visual perspective of how the songs could be used, the book gave me lead sheets of every song and explained different goals that the song could focus on, depending on the child's needs. The songs are easy to adapt to both groups and individual sessions, and the kids love them every time! - Dany Orozco, MT-BC, NMT, Music Therapist





From the bottom of my heart - thank you for the Rhythm Tree music therapy kit! I teach pre-k special education students with a variety of disabilities. Music opens a whole new world for these students. We are able to work on attending skills, self-help skills and language development through our musical instruments and Ryan's DVD. My students ask for these by name and they're also a great reinforcer. My little ones work harder than ever before during structured work times in order to sing the songs, dance and play with the instruments. I feel every child should have this unique outlet to express themselves. So again, thank you for this gift and I'll continue singing your praises to parents, teachers and therapists! - Rebekah Ozuna, Head Start Teacher in San Antonio, Texas




---
AWARDS AND RECOGNITION


Dr. Toy named our package one of the Top 100 Children's Products of 2013 and one of the Top 10 DVD/Audio Products for 2013!
We received ★★★★ in the categories of Sensory, Communication, Cognitive and Social-Emotional Development from an independent review done by AblePlay, the leading authority in toys and products for children with special needs.


The Autism File™ Magazine calls this package a "Must Have" for parents with children with ASD.
Independent review by Anne Zachry, PhD, OTR/L
"As an OT, I'm always looking for different ideas and techniques to add to my therapy "toolbox," and I recently discovered an amazing music therapy website that provides a ton of wonderful tips, suggestions, and videos!"

---
"Excerpt from the song "It's Music Time"
Great for practicing greetings, social skills and motor skills!
---
MP3 DOWNLOAD OF THE MUSIC FROM THE CD
Take a listen to the songs below and purchase album through my store
Also Available on iTunes, Amazon, CD Baby and Google play
---
Shipping Options

U.S.P.S. First-Class Mail® Parcel, U.S.P.S. Priority Mail 2-Day™ and a local pick-up in Exeter, NH are the shipping options for this product. We do not charge any extra "handling" fees.
For international orders, we offer both priority and first-class shipping options through the US Postal Service.

No Hassle, Free Return Policy

We are so confident that you will love this DVD, CD and Songbook that we will refund your money and even pay for your return shipping costs if you are not completely satisfied. This guarantee is effective for 90 days after you receive the package. Include all of the pieces of the package (DVD & CD) and using USPS registered mail, send them to The Rhythm Tree, 5 Indian Trail, Exeter, NH 03833. Please send an email to Ryan@TheRhythmTree.com to let us know it is on its way. Once the package is received, a refund will be issued.

Save this product for later